Freedom to grow : Vision Search Bioamplifier
Danger ahead
For a start-up, sales revenue is critical for survival. Visionsearch was facing a significant problem to their Multifocal & Full Field VEP system, used in the measurement of a person's visual system.
The bioamplifier, which amplifies and filters brain signals was no longer compliant and there were no plans to upgrade. Visionsearch was at the mercy of the supplier, so took a brave decision to develop their own solution.
They had the basis of an amplifier in the works but needed a partner to develop it for manufacture through regulatory compliance and into production. For us, this was an opportunity to really make a difference and deliver
New value & scary moments
We were curious about the characteristics and limitations of the existing system. There were issues and some over looked opportunities for a more desirable, usable and feasible product. So we got to work developing all aspects of the device.
With sales on the line, we could not afford to go back to the drawing board, so we worked contingencies into our development strategy, just in case. However, an unanticipated problem meant we needed a fundamental rethink of how signals were taken and processed. New intellectual property and a better amplifier design was greeted with equal amounts of joy and relief.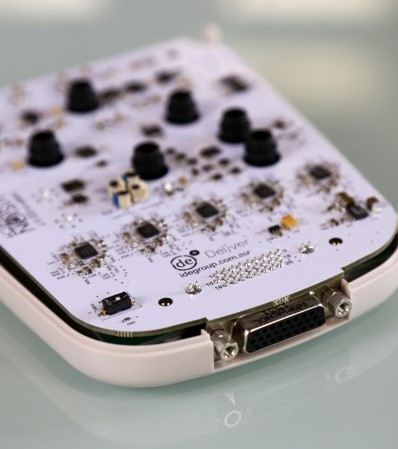 Getting the tick & into production
The bioamplifier put Visionsearch into a new product classification, so planning the regulatory path way from the beginning was crucial. So too was scaling the compliance effort. We could not jeopardise regulatory approval, but for the whole effort to be viable, we had to achieve it in a cost effective manner.
Compliance to medical device regulations and standards was proven. Management of the approval process delivered the approval we needed to put the amplifier into production. With production set up through our certified process, the product could now be delivered at the right price
Back on the road, moving forward
Showing off pilot production units to potential customers lead to new sales. Visionsearch were back in the market and ready to grow. Producing the first saleable units and the ability to support ongoing sales, was the reward for all the effort.
Its full circle for this young Australian company, taking research from the university lab to the market. They were free to expand on the potential of this product, with us to support the company in fulfilling this potential.